There are a few things the military is known for, good order and discipline and using service members as research subjects. To maintain good order and discipline, the military has an exhaustive amount of regulations and instructions that each member is expected to follow. And to address the storied past of experimenting on the troops Congress passed two laws to ensure the basic human rights of each member is preserved; 10 USC 1107 and 1107a. If you are not familiar with these laws your google box can teach you or you can look here and here. But enactment of these laws has done little in recent history to sway the leadership in the Pentagon from mandating soldiers to receive experimental products, many becoming unwitting test subjects.
According to the Pharmacovigilance plan release by the FDA on August 23, 2021, the same day that Comirnaty was approved, a post marketing study was described that should raise eyebrows for all of those that serve. C4591011: Active safety surveillance of the Pfizer-BioNTech COVID-19 Vaccine in the United States Department of Defense population following Emergency Use Authorization. This study is currently ongoing and will not be completed until December of 2023. So, at this point, if you have received the vaccine, you are now being observed and tracked as a study subject by the institution that forced this drug on you at the risk of separation and probably by saying stupid stuff about you not having integrity.
So let's get back to good order and discipline, currently in the leadership it is MIA. Many commanders under the guise of "just following orders" or my personal favorite "because I said so"," are not only violating the black letter of the laws I mentioned above, but they are outright defying the order of Secretary of Defense Lloyd Austin the THIRD. The memo he released on August 24, 2021 was very clear in the parameters of the mandate, this memo explicitly states that the only vaccines for use will,"Receive full licensure from the Food and Drug Administration (FDA), in accordance with FDA-approved labeling and guidance."
My question becomes, then why is every Combatant Commander ignoring this guidance from the Secretary of Defense to follow a memo by an acting Assistant Secretary of Defense, Terry Adirim advising the military health care providers to use Emergency Use products "as if" they are licensed? It is or it isn't lady. She created a policy that implicitly contradicts the SecDef memo, and yet every commander became an unrelenting yes man to that memo. For many soldiers it was the only explanation as to why they were receiving an Emergency Use vaccine and not the vaccine that received licensure and was properly labeled. The answer is: they have turned their back on good order and discipline to hit the easy button. They are too afraid to rock the boat because they may not get that bullet point next to their name with some meaningless accomplishment. To these commanders the law be damned even when it is staring them in the face, even when dissent is their duty if an order is at odds with the law.
So what does Terry say? What does she think about the service members asking questions they have the right to ask?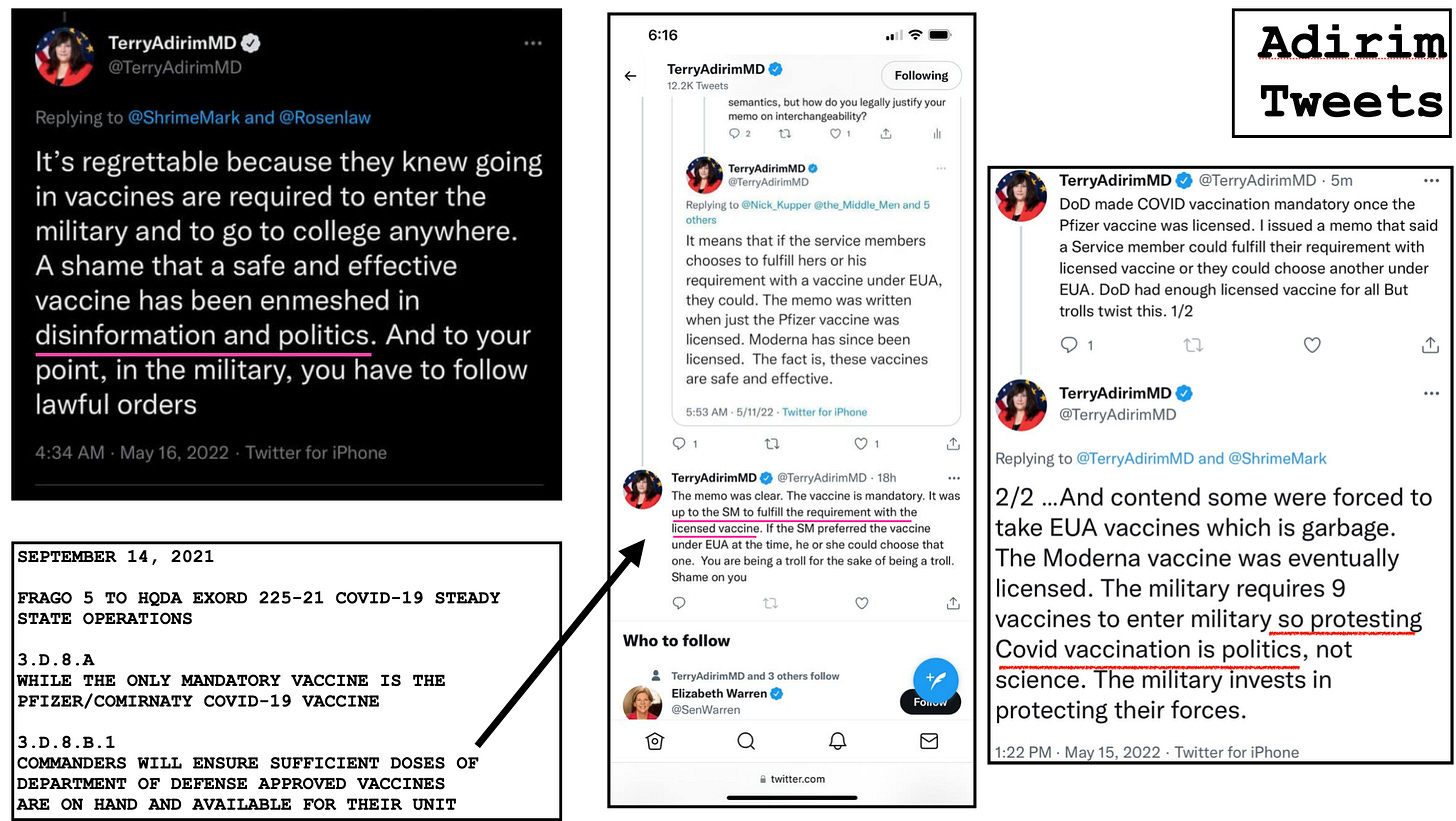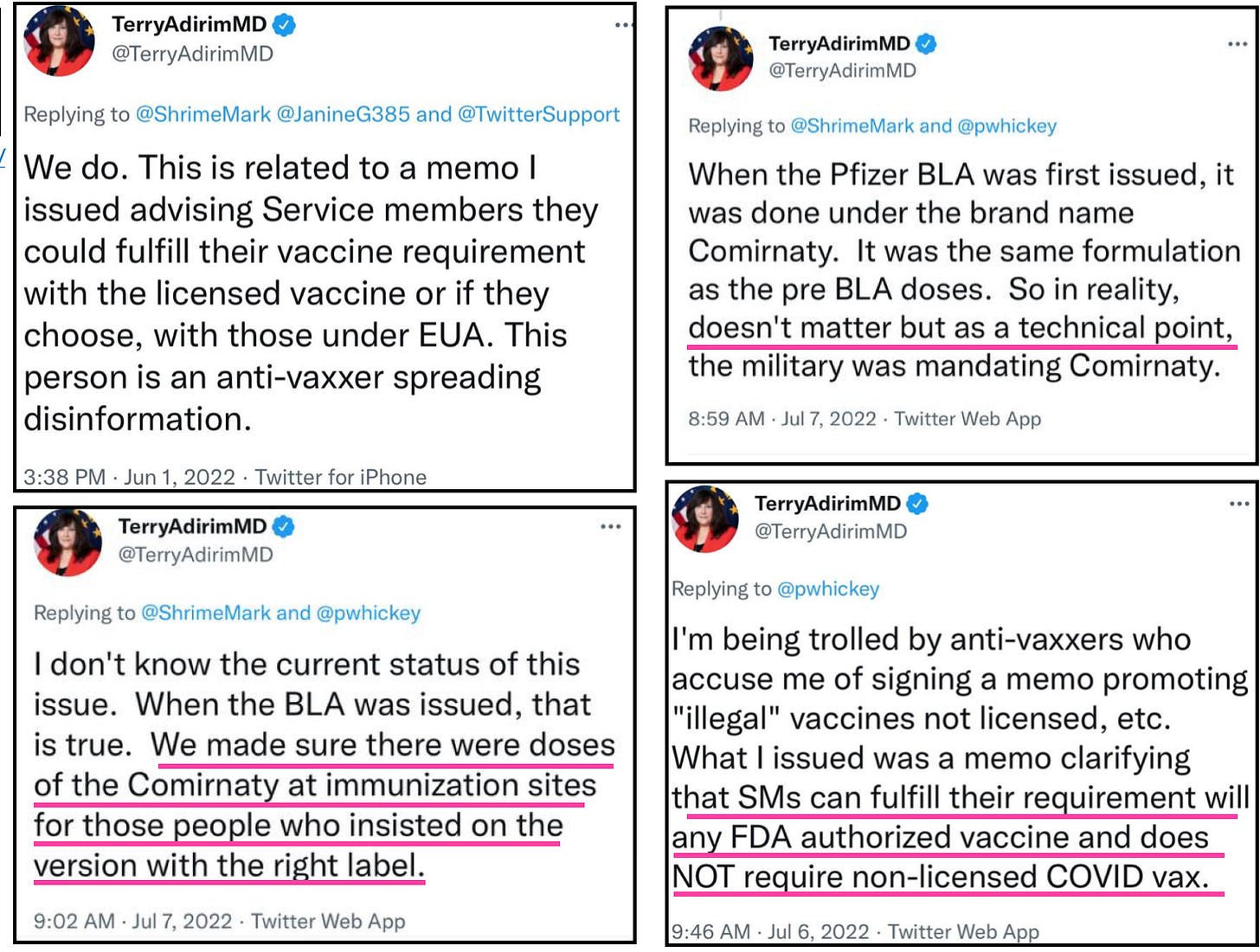 You're just being political and the law is just a technical issue. Ya know, the usual.
Our military is becoming a sinkhole for compliance and purposeful ignorance if there is a promotion on the horizon. The commanders that have forced their soldiers to be test subjects have failed at their one duty, and not only violated the law but also violated the Army Regulations they love to reference so much.

AR 40-562 (one of its many names) makes it very clear that if you are required to take a vaccine it should be readily available to you. But nay, commanders are offering soldiers trips to Canada or Mexico to receive vaccines, which would not be necessary if the licensed product was available to them (or if they were following the exemption requests required by this same regulation). Is a TDY trip to another country an unnecessary barrier? I would say its absolutely ridiculous.
So in conclusion
Statement of Facts
There has been no licensed vaccine available to any member of the military prior to June of 2022
Secretary Austin order mandated the military "will only use Covid 19 vaccines that receive full licensure from the Food and Drug Administration (FDA), in accordance with FDA labeling and guidance"
FDA guidance for Emergency Use Authorization (EUA) and Licensed vaccines states, "when prepared according to their respective instructions for use, can be used interchangeably." These instructions explicitly state that recipients are informed of the "option to accept or refuse" the vaccination series.
EUA vaccines have a legal requirement to be accompanied by an EUA Fact Sheet. The Fact Sheet for Healthcare Providers states they must advise recipients of the option to accept or refuse, and the Letter of Authorization states that all marketing for the product clearly states that it is for Emergency Use and is regulated under that legal regime
An EUA product is not interchangeable with a licensed product without informed consent or if there is no availability of a licensed product. To be interchangeable they must both be available, and be FDA approved and licensed products.
Proper Labeling is a legal requirement of a biologic (vaccine) per the Public Health Services Act (42 USC 262)
"Same Formulation" is not a legal threshold for treating a product "as if" it is licensed
10 USC 1107a requires Service Members be informed of the the option to accept or refuse, unless that requirement to be informed is waived by the President
The President of the United States has never issued a waiver to be informed of the right to accept or refuse the Covid 19 vaccines
EUA products are subject to the law of 21 USC 360-bbb-3 and licensed products are subject to the law 42 USC 262.
The CDC Immunization page for Covid 19 clearly states that the August 23, 2021 BLA product will not be produced, only the "Subsequently approved BLA product will be manufactured"
The "Subsequently approved BLA" was approved December 16, 2021
Anyone ordered to get vaccinated prior to June 2022 was mandated to receive and EUA product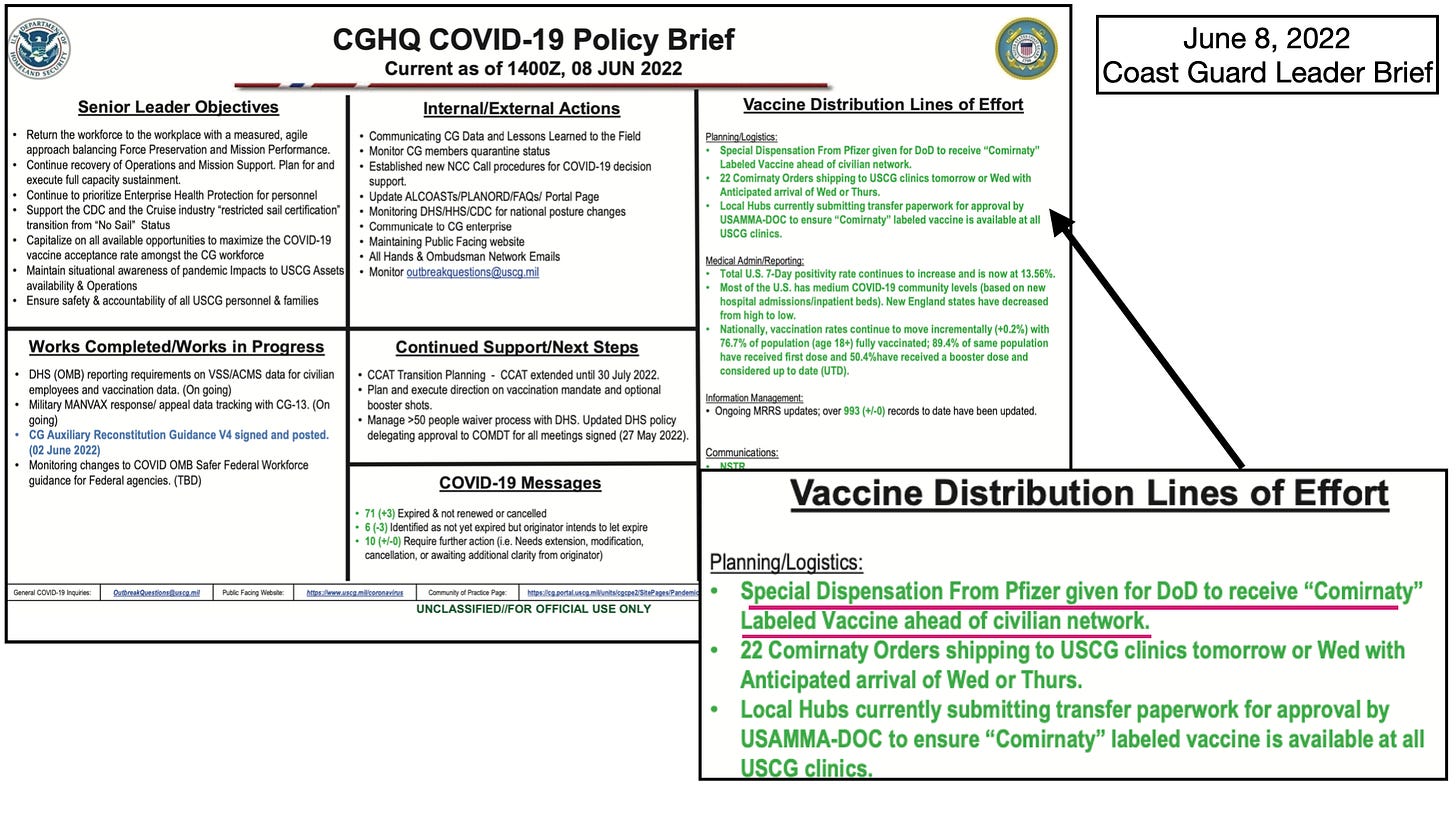 Reference Links
https://www.fda.gov/media/150386/download
https://www.fda.gov/media/153715/download
https://www.fda.gov/media/153716/download
https://www.fda.gov/vaccines-blood-biologics/qa-comirnaty-covid-19-vaccine-mrna
https://www.cdc.gov/vaccines/programs/iis/COVID-19-related-codes.html
https://crsreports.congress.gov/product/pdf/IN/IN11764
https://crsreports.congress.gov/product/pdf/R/R46913/3