We all know that the military is in a recruiting crisis, and likely a retention crisis, after missing goals up to 25% for the Army alone. The other branches have also fallen short with exception of "enlisted personnel" in the Navy, according to Rear Admiral John Kirby. So with these shortcomings in mind and the looming threat of near peer adversaries like China and Russia, what the hell is the top brass at the Pentagon thinking? 
Prior service of a family member is one of the greatest indicators of a persons propensity to serve. As it stands today approximately 23% of people 18-24 are eligible to serve, and of that 23% only 9% possess a propensity to serve. That is down 2 percentage points in the last 4 years, and eligibility is down 6% in that same time frame.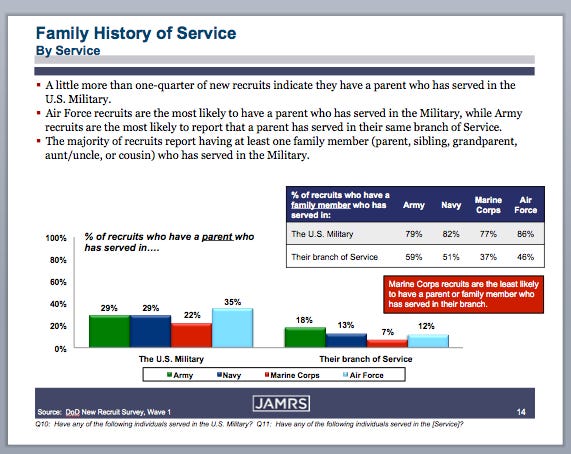 In recent influencer (parents, grandparents etc) polls that have been conducted within the DoD there is a downward trend in active recommendation of service versus supporting a decision to serve. This means that the adults that are influencing youths decision making are not recommending service to their children or grandchildren. The loss is especially strong with parents. This is the point I connect the most with, I am 37 years old, witnessing the actions of leadership within the DoD, and I would never recommend my (imaginary) child join any branch of service. Grandparents remain highest, most likely due to a generational nostalgia for what the military was and not what the military has become, corrupted by idiocy.
Corruption in the military has always been around, but with social media and all those rumor peddlers (hahahahaha) out there, it is becoming more obvious to those that are considering service.
See here
and here
Thats just in one month, and thats not even all of it, but you get the idea.
There are some other issues that seem to be rearing their ugly head within the military community that might be changing the minds of military parents to recommend service and remove their children from military life all together. The DoD Education Activity (DoDEA) has had some interesting curriculum come to light lately that reflects what we have seen on a national level that has been met with great resistance from parents. Most notably in Lorton, VA in the televised School Board meetings.
The Claremont Institute recently published an article that highlights the DoDEA push for "equity and access." In layman's terms, inclusivity at all costs and shifting from academic achievements to social ones. Here is an example of the elementary training priorities.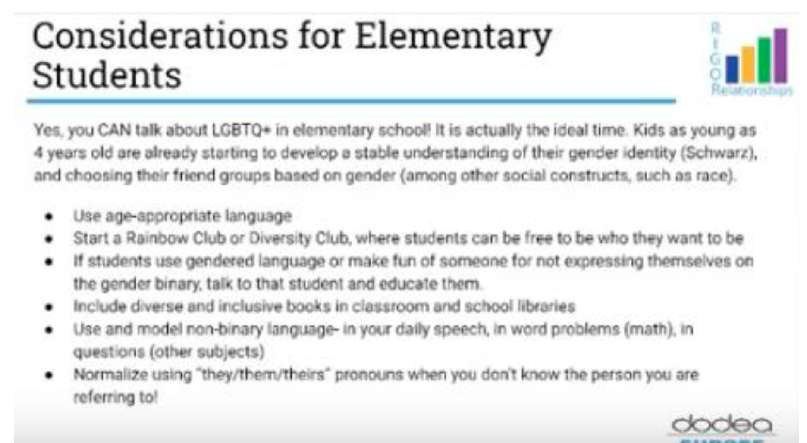 What we saw unfold in Virginia is not unique and parents do not want their children exposed to explicit sexualization while in the classroom, but DoDEA is 100% in on the game, and parents that are my age and even younger do not approve. And according to Amy Haywood in her article titled, "Why Are Defense Department Schools Transitioning Students' Gender Behind Parents' Backs?" it could also be unconstitutional. She states, "A parent's right to oversee the care, education, and control of his or her child is guaranteed by the 14th Amendment, and was affirmed by the Supreme Court in 1923, in Meyer v. Nebraska, and as recently as 2000, in Troxel v. Granville."
Just a little more of that bad publicity that DoD leadership has been blaming for their poor recruiting numbers. "Furthermore, overall public perception of the military is often inaccurate, with negative publicity overshadowing the tangible benefits and positive global impact airmen make every day," Lt. Gen. Caroline Miller, the Air Force's deputy chief of staff for manpower, personnel, and services recently said in a Senate committee hearing. I do not disagree that bad publicity is keeping recruiting low, but it is a bed they have made for themselves. Watching the last 20 years of the Global War on Terrorism with no benefit to the United States and if there were any, they were immediately overshadowed by the outrageously horrendous exit from Afghanistan and the abysmal show of support from the President and government agencies after the fact. Stories of suicide and assaults being brushed under the rug, retirements that conveniently align with scandals and on and on. People are not blind to these acts of "bad publicity." The recent run to cover General Donahoe is a great example. The military tries to portray itself as an institution of wokeness while simultaneously having the boys club to protect its members, truth be damned.
Another consideration for service that is of significance is comparing the last 5 years of propensity studies issued by JAMRS. The largest detractor for military service is "PTSD/Psychological issues." Is it possible that young people are worried about mental health more than physical health because they are being constantly bombarded by trigger based manipulation regularly? According the the CDC,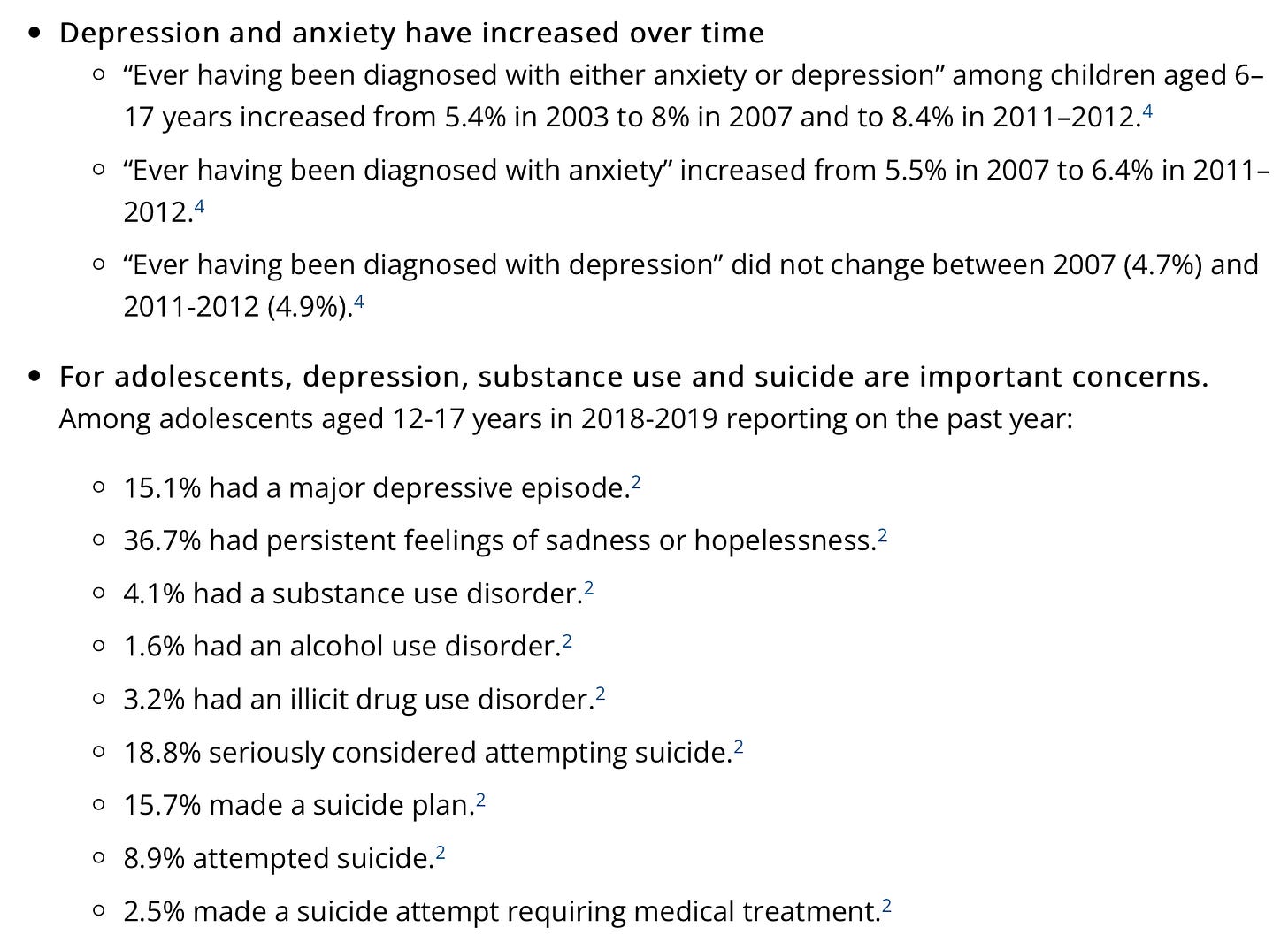 What are we doing to our kids? The timing suggests a strong correlation to the influx of social media on mental health. A generation that claims being misgendered or using the wrong pronouns is an act of violence speaks highly of the sacrifices of our men and woman in uniform that have insured the safety of our nation so expertly that words are the greatest threats to these kids. So as more and more children and teens are being treated for anxiety and depression, the military instituted its new Genesis program to "streamline" the recruiting process. However, this has been a massive hurdle for recruiters because certain diagnosis, such as depression and anxiety, can be disqualifying, and poor logistical support has created a massive backlog according to TRADOC.
A multitude of missteps have taken us away from being a nation with the strongest military in the world, a military that countries depend on in ways that are not just combative but humanitarian.
Those that are serving have been subject to an unlawful mandate, and those that have dared to not line up and "take the damn shot" for religious or legal reasons are being removed without a consideration to readiness. DoDEA is using its platform to push destructive (to the children and the military parents trust) curriculum. Leadership being toxic and scandalous without fear of accountability. Mental health problems for our youth is at an all time high while the Genesis program is disqualifying them before they can even walk through the door.
Is this just the telltale sign of ineptitude or is it by design?